Please pray for
John & Dawn
Spillman

Isaiah 65:24
And it shall come to pass,
that before they call, I will
answer; and while they are
yet speaking, I will hear.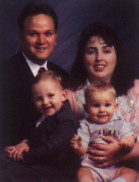 John Dawn
J.J. & Steven
How then shall they call on Him in
whom they have not believed? and how
shall they believe in Him of whom they
have not heard? and how shall they hear
without a preacher? Rom. 10:14
But my God shall supply all your need
according to His riches in glory by
Christ Jesus. Phil. 4:19
Sending Church & Mailing Address:
Park View Bible Baptist Church
5600 W. 33rd Avenue · Denver, CO 80212
E-mail: spillman@travelin.com
Mission Address:
Baptist International Missions, Inc.
P.O. Box 9215 · ...