"...the heavens and the earth, which are now, by the same word are kept in store,
reserved unto fire against the day of judgment and perdition of ungodly men." II PETER 3:7
When will this judgment of fire come upon the Earth? Jesus told us what to look for:
"But as the days of Noe [Noah] were, so shall also the coming of the Son of man be. For as in the
days that were before the flood they were eating and drinking, marrying and giving in marriage, until
the day that Noe entered into the ark, And knew not until the flood came, and took them all away;
so shall also the coming of the Son of man be." MATTHEW 24:36-39
As we look around us today we see "the days of Noah" all over again (Lesson 3). Sin runs rampant throughout the world: lying, stealing, cheating, adultery, sexual perversion, selfishness, drunkenness, back-stabbing, dirty jokes, mail fraud, bitterness, lust, gossiping, greed, extortion, murder, drug addiction, rejection of God, rebellion, terrorism, swearing, torture, injustice, hatred, mail bombings, wife-beating, sodomy, political corruption, pride, legal corruption, immorality, bad mouthing, euthanasia (mercy killings), abortions, witchcraft, fornication, rioting, gangs, disobedience to parents, truce breaking, tax fraud, computer viruses, child molestation, prostitution, wars, gambling, pornography, envy, jealousy, laziness, lawlessness, rape, incest, gluttony, welfare fraud, divorce, hypocrisy, and every other perversion that flows out of the heart of sinful man.
Mankind has not changed since the days of Noah and neither has God - HE STILL HATES SIN!
It's only a matter of time when once again the cup of God's wrath will fill to its brim, and destruction will come upon mankind (Revelation 16:1). But there is hope! God is still as merciful and gracious as ever, once again giving man time to REPENT and TRUST the "Ark of Salvation" - Jesus Christ.
"The Lord is not slack concerning his promise, as some men count slackness;
but is longsuffering to us-ward, not willing that any should perish,
but that all should come to repentance." II PETER 3:9
"For God so loved the world, that he gave his only begotten Son, that whosoever
believeth in him should not perish, but have everlasting life." JOHN 3:16
"For God hath not appointed us to wrath,
but to obtain salvation by our Lord Jesus Christ," I THESSALONIANS 5:9
THUS WE HAVE THE MAIN SUBJECT OF OUR LESSON - THE SIAMESE TWINS OF SALVATION:
"...repentance toward God, and faith toward our Lord Jesus Christ." ACTS 20:21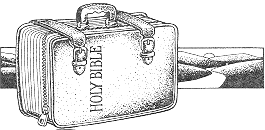 2